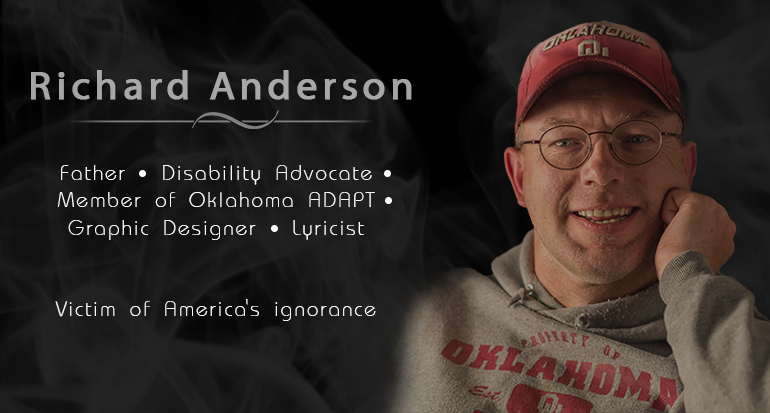 Rght to go to in public?

Don't we have the right to go to number two when we are out in public? It doesn't look like it.

While we have public bathroom stalls equipped for us persons with disabilities, a very important equipment is missing, I don't know if it was just overlooked, or they thought "Oh, they don't need go number two when they are out" or whatever. Let me ask the "abled" body people out there, do you go number two when you out in public?, what do you do when that not so pleasent urge all of the sudden comes over you?, what? you rush to the nearest public restroom don't ya. Why don't we have that freedom, that assurance and that piece of mind too???????????

For the longest time I've been an advocating putting BIDETS in "handicapped" stalls. I've sent emails to Gov. Brad Henry, and to numerous Congressmen and Representatives. Gov. Henry wrote me back saying to contact my Congressmen and/or Representatives and if they will take it on that he would definitely sign it in to law, well, I emailed Cole, Imhofe, Nations, Martin, Coburn and others. I got two replies, one from Mr. Martin which I know personally (sorry Scott), he said he'll try but his agenda was full to fit that in for that session. And the other was Dr. Coburn, which I wrote twice, and got the brush off twice. here's his second email to me on October 24, 2011.:


---


Dear Mr. Anderson,

Thank you for your email regarding your desire to see changes made to disability accessibility requirements in public restrooms. It is good to hear from you again. I truly am sorry to hear about the difficulties you continue to face due to your disability. As I conveyed you to before, I certainly am sympathetic to your desire to see accessibility improvements, such as bidets, made in public restrooms. However, I still have concerns about implementing such broad and costly regulations at the federal level.

Regarding your comments on Medicare, I wholeheartedly agree the federal government's poor management of this program has resulted in tremendous waste of taxpayers' hard-earned dollars. You may be interested to hear that on June 22, 2011, along with Senator Tom Carper (D-DE) and six other Senators, I introduced the Medicare and Medicaid Fighting Fraud and Abuse to Save Taxpayer Dollars Act, bi-partisan legislation also known as the FAST Act (S. 1251). Among its provisions, the bipartisan FAST Act would: enact stronger penalties for Medicare fraud; curb improper payments; and establish stronger fraud and waste prevention strategies to help ensure the integrity of the program. You can learn more about the FAST Act by visiting my website: http://1.usa.gov/Ta2T0H.

Thank you again for taking the time to share your concerns with me. Best wishes.

Sincerely,
October 24, 2012
Tom A. Coburn, M.D.
United States Senator


---

Uh ok? I know it'll cost money, BUT. did you even consider how it would pay for itself and more?. We'll be able to travel and stay in hotels, we'll be able to go to games and concerts, we'll be able to eating at restaurants without worrying, and if you all would get smart about this and setup assistance for us to get employment, bidets would be beneficial at or by our place of work. And you ask how would that pay for the bidets and then some? ECONOMY, we'd be buying things, paying taxes from buying stuff AND from our jobs.

So I ask you Dr. Coburn, and Mr. Martin, what's more important, spinning our wheels and save money, or spend money on something that is very logical and useful that would MAKE money that, in which, would result into SAVING money. Common sense men, just plan common sense………


---

Here's something think about:

Bidets are found throughout Europe, the Middle East and Asia (especially Japan) and pretty commonly in South America (basically everywhere besides the U.S., Canada and Australia),

Bidets are common bathroom fixtures in many southern European countries, especially Italy, … They are commonly found in hotels and even some public facilities.

Change my citizenship……………. AWFULLY TEMPTING AMERICA

Back


.